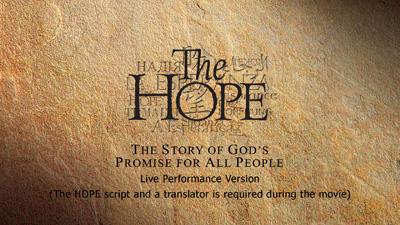 Language:
None / For Live Performance
The HOPE Version/Type:
Full Length-Original/Off Screen Storytellers
Technical Specs:
NTSC, 4:3 aspect ratio, Stereo sound, Color
Description:
This version of The HOPE is intended to be played on screen while a translator is translating the script live as the movie plays. This version has burned in English subtitles through out the film. See below to download the English Script for a live translation. The script is not to be used to create a storyteller or voice only version of The HOPE. Please contact partneringdirector@mars-hill.org to talk about creating a new HOPE adaptation.
The audio track only includes the music soundtrack and SFX. There is no storyteller narration or background actor voices.
Script will be available for download after a purchase of a DVD in PDF format. For questions please contact us.